Introduction: Acquisitions History of the Rococo Ébénisterie Collection
In his first book, History of the Oil Business of George F. and J. Paul Getty 1903–1939, published in 1941, J. Paul Getty (1892–1976) took the opportunity to include a short, two-page chapter on his art collection. He explained that although since 1931 he had acquired only fine arts objects—with the exception of one antique rug—his lease of a large penthouse in New York City in November 1936 marked a turning point: "The apartment was furnished and included many examples of 18th-Century French and English furniture of good quality, and one 18th-Century Gobelins tapestry. I had never been particularly interested in antique furniture or in tapestries, but after living in the apartment for a few months I felt the influence of their charm."1
Indeed, the "charm" of such objects had a critical impact on Getty. In 1938, he began to acquire French decorative arts, including a writing table stamped with what looked like the initials "B.U.R.B." and a "French tulipwood commode," both bought in July of that year from the London art dealer J. M. Botibol (d. 1954). These represent his first two acquisitions of the twenty-eight pieces that now compose the French Rococo ébénisterie furniture collection of the Getty Museum, to which this publication is devoted. At that time, the stamp of Bernard II van Risenburgh was "an enigma to all the experts of antique furniture. Of consummate quality, skill and grace, any piece of furniture stamped with the initials B.U.R.B. is regarded as perfect of its kind. Yet the identity of this greatest cabinet-maker of all time, the enigmatic B.U.R.B., still remains a riddle."2 These lines refer to the acquisition of the writing table (cat. no. 9) pictured in Collector's Choice, written by Getty and Ethel Le Vane and published in 1955, two years before the cabinetmaker was identified.3 Regarding the "French tulipwood commode," as it was usually referred to (cat. no. 21), neither Getty nor Botibol knew of the existence of the two stamps of the cabinetmakers Delorme and Petit struck on the top of the carcass, which were noticed in 1971. And like many scholars until recently, they could not know that in fact this commode is a nineteenth-century assemblage of old and new parts, as demonstrated in a technical description by Arlen Heginbotham (see cat. no. 21).
In Botibol's gallery, Getty had also noticed a Louis XV bureau plat, which he bought two years later, in 1940 (cat. no. 10). The maker of the desk remained anonymous until 1973, when a conservation examination discovered the "B.V.R.B." stamp.
It was in 1949 that "on impulse Getty added the Oeben mechanical table to his collection,"4 after he had seen it at the gallery of Cameron, a dealer in London.5 Getty recalled its arrival at the Malibu Ranch House in December 31 in his diary and worried, "[Although it] was partly open when unpacked, I succeeded in closing it but couldn't get it to open again by turning the key" (cat. no. 18).6 Getty truly loved this table, as attested by film footage in which he is seen showing the piece and its functioning mechanical system to his youngest son, Timmy (1946–1958) (fig. 1). Today visitors to the Getty Center—and to the Getty website—can appreciate this elaborate system thanks to an interactive display that allows virtual manipulation of the table's compartments (https://youtu.be/m5OxVgH-T1I and https://youtu.be/EblnaLMjdNg). The film footage of Getty and his son can be viewed in the installation J. Paul Getty Life and Legacy at the entrance to the South Pavilion of the Getty Center (and online at https://youtu.be/_lb4e5hWj0Y [at 24 min. 10 sec.]).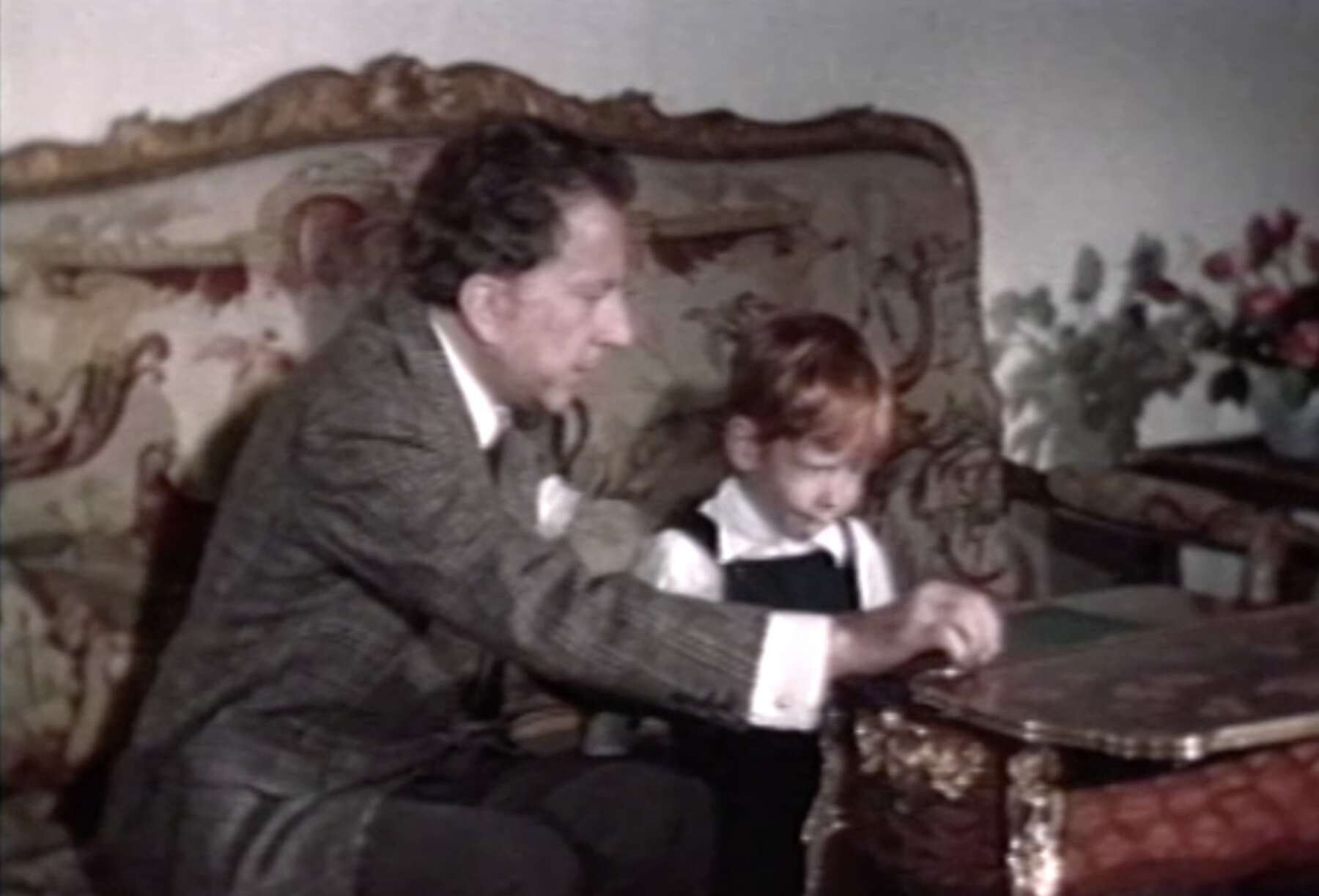 In 1950, Getty acquired a pair of black lacquer encoignures by Jacques Dubois (cat. no. 12), about which he confessed, "I'd been in the market for such a pair for about fifteen years before I saw these at Partridges London. Their beauty and elegance so impressed me that I bought them—regardless of their high price—without hesitation."7 Unfortunately, the black lacquer had suffered from the uncontrolled climates to which the encoignures were exposed over the years; there is so little that remains of their original surfaces that these corner cupboards have never been on display in the Museum. Getty acquired another piece by the same cabinetmaker one year later, this time in New York from Rosenberg & Stiebel: a small red lacquer secrétaire, whose size remains quite atypical in Dubois's preserved oeuvre (cat. no. 13).
The year 1953 was marked by two major acquisitions of furniture by Bernard II van Risenburgh, both also from Rosenberg & Stiebel: a black lacquer commode (cat. no. 5) and a desk that is unique in its double-sided shape with two fall fronts (cat. no. 8). Getty, who had initially missed the opportunity to buy this double desk directly from the Duke of Argyll, made every effort to locate it for nearly two years before he was able to track it down. The acquisition process, recounted in Collector's Choice, illustrates Getty's difficulty in reconciling his search for rare pieces and good bargains with his full business schedule; it also shows his tenacity when he was interested in a particular object.8 It was in that year, 1953, that he created the J. Paul Getty Museum Trust. And beginning in 1954, the Ranch House in Malibu that he had owned since 1945 had galleries open to the public on a regular basis. Most of the above-mentioned objects were displayed in the Louis XV Gallery, as illustrated (fig. 2) and discussed in The J. Paul Getty Museum Guidebook, published in 1954.9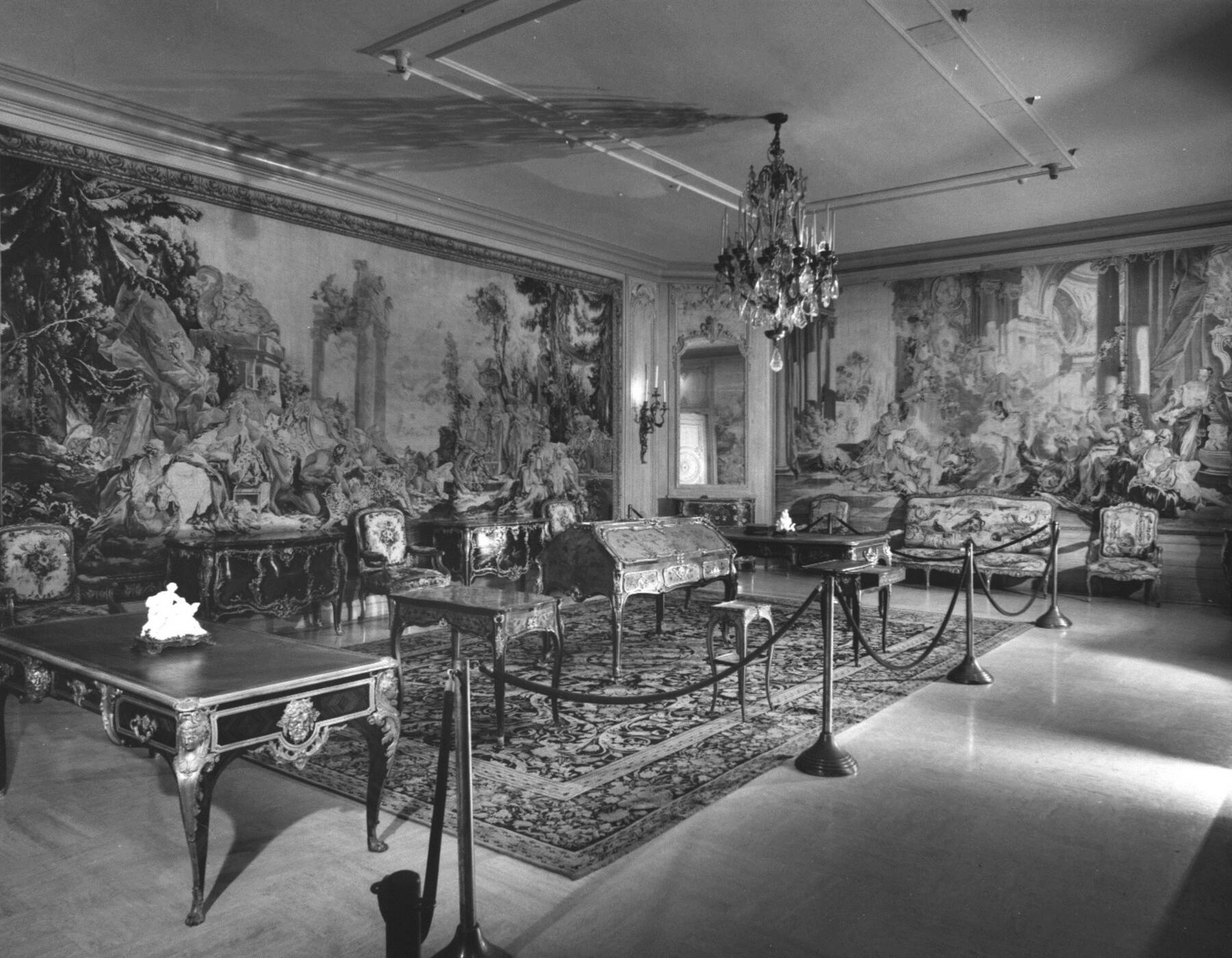 The black lacquer commode attributed to Joseph Baumhauer (cat. no. 14) that Getty bought in 1955 was part of an acquisition of five major pieces of furniture from the collection of the mining magnate and philanthropist Sir Alfred Chester Beatty, which his friend and adviser Sir Robert Abdy took him to see.10 This happened just before a period during which Getty was focusing on furnishing his home in England, Sutton Place, near London, and he only resumed his acquisitions of Rococo ébénisterie pieces for the museum in 1971. In particular, he bought a large number of objects, including a writing table attributed to Joseph Baumhauer (cat. no. 15) and a pair of commodes by Van Risenburgh (cat. no. 7), at the major auction sale organized after the death of one of the richest women at the time, Mrs. Anna Thomson Dodge, widow of the automobile pioneer Horace E. Dodge, who had actively collected artworks for her Louis XVI–style mansion, Rose Terrace, outside of Detroit. In the same year he bought another Rococo piece, a small writing and toilette table by Oeben at the auction sale of the estate of the pianist and philanthropist Martha Baird Rockefeller (cat. no. 19).
After 1972, J. Paul Getty rarely left his English home, Sutton Place, and made his decisions on the basis of photographs. The curator Gillian Wilson, who was hired in December 1971, started to advise him on French decorative arts acquisitions. At that time, in the museum installed in the Ranch House, only two galleries were devoted to decorative arts, although fourteen were already planned for them in the new Roman-style villa that was being built and was opened in 1974.11 Four acquisitions of Rococo ébénisterie were made in 1972: two pairs of corner cupboards with the carcass and mounts attributed to Jean-Pierre Latz and their marquetry panels attributed to the workshop of Oeben, from Frank Partridge & Sons in London and French and Company in New York, respectively (cat. no. 17); a pair of black lacquer corner cupboards by Van Risenburgh, from Kraemer et Cie in Paris (cat. no. 4); and a red lacquer commode by the same cabinetmaker, sold at auction in Paris (cat. no. 6).
Before he died on June 6, 1976, J. Paul Getty approved one last Rococo ébénisterie acquisition: in May, he signed the invoice for a commode stamped "DF" sold by Alexander & Berendt in London. An unusual piece, it remains the only commode known among the ones by, or attributed to, this unidentified cabinetmaker that is entirely veneered with wood marquetry and has this form (cat. no. 20).
Although Getty's will would be settled only in 1982, a certain amount of interest earned on the estate was available to the Museum, and Gillian Wilson was successful in obtaining the approval for acquisitions of decorative arts objects from the board of trustees, including two major pieces of Rococo ébénisterie. In 1977, from the Paris-based dealer Aveline et Cie, she acquired the long cabinet attributed to Van Risenburgh, a unique piece notable for its size and the design of its marquetry (cat. no. 1). And in 1979, she secured an artwork that J. Paul Getty would have been proud to buy: the exceptional corner cupboard by Jacques Dubois (cat. no. 11). This cupboard was among the twelve most important pieces of eighteenth-century French furniture that, on Getty's request, the dealer Hans Stiebel (d. 1964), an expert in the field, had established, a list that also included the above-mentioned double desk by Van Risenburgh, already in Getty's collection.12 Confiscated by the Nazis from the collection of Baron Alphonse von Rothschild in Vienna (fig. 3), the corner cupboard was then restituted to his widow, Clarice, who had it sent to New York and sold it to Rosenberg & Stiebel and Wildenstein & Co. Eventually fully owned by the Wildenstein family, the piece was to be offered at auction in December 1977 by Sotheby Parke-Bernet in Monte Carlo as part of the Wildenstein collection of French furniture and works of art. But on November 1, the auction house published an announcement stating that "in order to preserve intact this marvelous collection . . . an art lover and connoisseur, and a great friend of France, has become the new owner."13 This was Akram Ojjeh, a wealthy Saudi entrepreneur, then living in France, who confessed to journalists that he "did not lack the necessities of life," with his ten Rolls-Royces, thirty Mercedes-Benzes, and two Boeing 707s. He had actually acquired the Wildenstein collection with the intention to furnish luxury salons aboard the liner France that he wanted to turn into a floating casino in Florida.14 But he did not achieve his plan, and in 1977 he decided to sell first the liner and then the collection of furniture and decorative arts. Gillian Wilson asked the trustees to consider the purchase of the corner cupboard with the highest priority, explaining that it was one of the landmarks of French Rococo cabinetmaking.15 Referred to as the "sale of the century," a "shower of gold," and a "gilt-edged auction,"16 the Wildenstein-Ojjeh sale broke many records, in particular because the British property magnate Sir Charles Clore (1904–1979), the Greek shipping tycoon Stavros Narchios (1909–1996), and many other collectors and art dealers bid against each other. But it was most of all the star piece of the sale, precisely the Dubois corner cupboard, that made news, not only because at that time it reached a world record price for a piece of furniture (7,600,000 French francs, then equivalent to $U.S.1,700,000), but also because the identity of the buyer for whom the London Heim Gallery had bid was not revealed. Nonetheless, many suspected early on that this buyer was the then richest museum in the world: the Getty. In the early 1980s, the full provenance of the cupboard, a commission from Count Branicki (Polish, 1689–1771) for his castle at Białystok outside Warsaw, was discovered, rendering the piece even more important in the history of French Rococo furniture (see cat. no. 14). As a result, the Getty Museum devoted a small exhibition to the cupboard in 1992, in one of the Getty Villa galleries.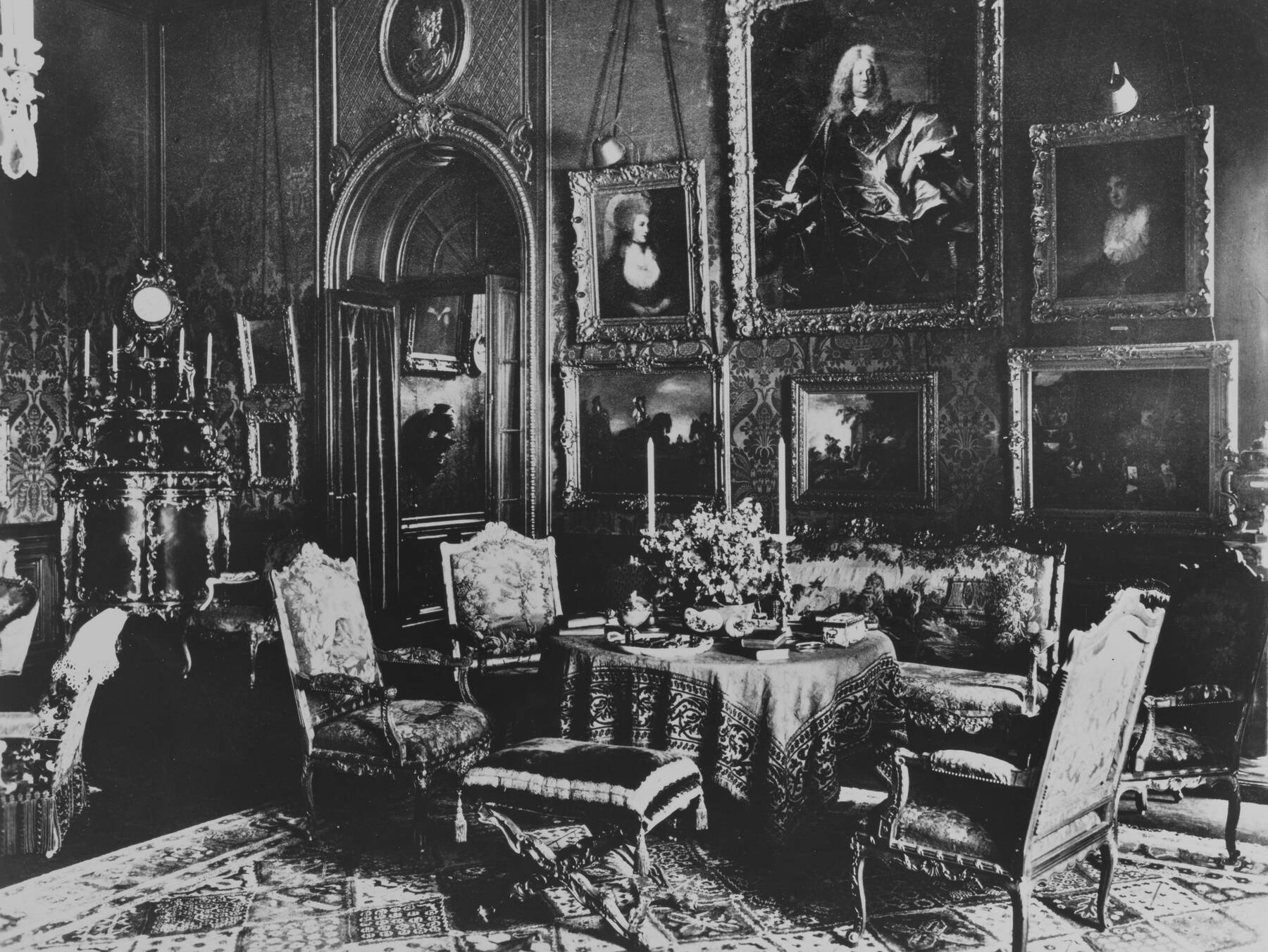 In the early 1980s, after the settlement of Getty's will, Gillian Wilson made the three last acquisitions of French Rococo ébénisterie. In 1983, she bought in Paris the commode attributed to Jean-Pierre Latz from Maurice Segoura (cat. no. 16) and the cartonnier with bout de bureau and clock by Van Risenburgh from a Portuguese collector through Didier Aaron (cat. no. 3), a piece that was, like the Dubois corner cupboard, confiscated by the Nazis and then fortunately restituted to its owner, in this case Baronne Miriam de Rothschild. And in 1984, a pair of cabinets bought from Kraemer et Cie in Paris (cat. no. 2) completed the already admirable ensemble of pieces by Van Risenburgh.
"The 18th century was the golden age of furniture and France ruled supreme," Getty wrote in his small book, Europe in the Eighteenth Century, published in 1949.17 Some of the most refined specimens can now be found in the galleries of the Getty Museum in Brentwood, thanks to the French Rococo ébénisterie pieces acquired by and with the generosity of J. Paul Getty.
---
The twenty-eight works of French Rococo ébénisterie in the J. Paul Getty Museum collection are presented in this catalogue in twenty-one entries: seventeen are devoted to independent objects; four to a pair of objects, respectively; and one to two similar pairs of objects. The sequence, which keeps together pieces made or attributed to the same cabinetmaker,18 follows a loose chronological order of the objects' dates of creation, from about the mid-1730s to about 1760. The pieces by and attributed to Bernard II van Risenburgh, the cabinetmaker who is represented with the largest group of objects in the collection, are ordered by type (cabinets, cartonnier, corner cupboards, commodes, double desk, table, and writing table). The two objects that have been highly modified or assembled in the nineteenth century are the last entries in the catalogue. Each entry is prefaced by general information: date of manufacture; name, life dates, and title of the artist(s); dimensions; materials; and accession number. This is followed by a description of the piece(s) of furniture and a list of the marks, stamps, labels, and inscriptions. Each object or group of objects is discussed in an art historical commentary that concludes with its provenance, exhibition history, and bibliography. Conservators provide a detailed technical description of each of the pieces.
For personal reasons, Gillian Wilson could not continue her work on this collection after the summer of 2013, and she unfortunately died on November 15, 2019, just before the manuscript was delivered to Getty Publications. The final stages of the curatorial contributions to this publication were therefore carried out by the Sculpture and Decorative Arts Department under my supervision. Linnea Seidling, curatorial assistant, coordinated the project. Philippe Halbert, former graduate intern in the department, wrote the catalogue entry on the two pairs of corner cupboards attributed to Latz (cat. no. 17) and the descriptions of the writing table attributed to Joseph Baumhauer (cat. no. 15) and the commode stamped "DF" (cat. no. 20). Grace Chuang, former volunteer in the department, assisted us, in particular, with the objects by Bernard II van Risenburgh, on whom she is writing her dissertation (New York University, Institute of Fine Arts). Amanda Berman, curatorial assistant, and Dulcinea Cano, senior staff assistant, provided crucial help during the last stage of preparation of the material for Getty Publications. We wish to thank Joe Godla and Gordon Hanlon, formerly of the Getty Museum, for their early work on the technical study of several objects in this catalogue; Herant Khanjian for the infrared analysis cited in cat. nos. 4, 5, 8, and 14; Heinrich Peining, of the Bayerische Schlösserverwaltung, and Cecily Grzywacz, formerly of the Getty Conservation Institute, for scientific analysis of the dyes used in the marquetry of the Oeben mechanical table (cat. no. 18); and Michael Smith and Gary Hughes of Getty Digital (formerly Museum Imaging Services) for their work on the digital restoration of the Oeben table (cat. no. 18). The manuscript greatly benefited from the expertise of Charissa Bremer-David, curator, and Jeffrey Weaver, associate curator. As much as possible, the editing process has preserved the curatorial entries as they were delivered by Wilson. However, adjustments were made when new discoveries and conclusions by conservators allowed for more precision in the art historical commentaries. In addition, the bibliography directly related to the Getty objects has been updated to 2016, and in certain instances references have been added to the general bibliography in order to include major exhibition catalogues, museums' collection catalogues, and scholarly articles. The provenance of each object, including the supporting sources, reflects the best of our knowledge as of April 2020. I was able to check the French sources quoted in the entries against the originals in the Archives nationales in Paris and in the Archives diplomatiques of the Ministère des Affaires étrangères in La Courneuve: the original spelling was retained, but capitalization, accents, and punctuation were modernized. The historical units of measure and currency in these documents are, respectively, the pied (32.4 cm; 1 ft. 3/4 in.; a pied was divided into 12 pouces) and the livre tournois (divided into 20 sous, 1 sou being worth 12 deniers).
In addition to the many illustrations included in this catalogue, high-resolution views and details, zoomable and downloadable at no charge, are available on the collection pages of these objects on the Getty Museum website (https://www.getty.edu/art/sculpture-and-decorative-arts/). The bibliography tab on these pages is kept as current as possible to include the most recent citations of scholarly publications related to Getty objects.
Woods marked with an asterisk (*) in the list of the media for each object indicates that they have been identified by microscopic anatomy (see "Glossary").
Notes
Bibliography
Baroli 1957

Baroli, Jean-Pierre. "Le mystérieux B.V.R.B. enfin identifié." Connaissance des Arts 61 (March 1957): 56–63.

Getty and Le Vane 1955

Getty, J. Paul, and Ethel Le Vane. Collector's Choice: The Chronicle of an Artistic Odyssey through Europe. London: W. H. Allen, 1955.

Getty 1949

Getty, J. Paul. Europe in the Eighteenth Century. Chicago: Lakeside Press, 1949.

Getty 1941

Getty, J. Paul. History of the Oil Business of George F. and J. Paul Getty 1903–1939. [Los Angeles?]: J. P. Getty, 1941.

Sassoon 1981

Sassoon, Adrian. "New Research on a Table Stamped by Bernard van Risenburgh." J. Paul Getty Museum Journal 9 (1981): 167–174.

Sassoon 1991

Sassoon, Adrian. Vincennes and Sèvres Porcelain, Catalogue of the Collection, the J. Paul Getty Museum. Malibu, CA: J. Paul Getty Museum, 1991.

Valentiner and Wescher 1954

Valentiner, William R., and Paul Wescher, The J. Paul Museum Guidebook. Los Angeles: The Museum, 1954.

Wilson et al. 2008

Wilson, Gillian, Charissa Bremer-David, Jeffrey Weaver, Brian Considine, Arlen Heginbotham, Katrina Posner, and Julie P. Wolfe. French Furniture and Gilt Bronzes: Baroque and Régence; Catalogue of the J. Paul Getty Museum Collection. Los Angeles: J. Paul Getty Museum, 2008.